Why Hire a Cardiff Coach From Us
The Coach Company UK is a trusted supplier of private Cardiff coaches for hire with drivers. We have transported hundreds of travellers over the years, including multinational firms and organisers of global events.
We collaborate with reliable Cardiff bus companies to provide first-class transportation services at affordable rates. Using ingenious assistive technology, we list the best coaches from the top bus companies in Cardiff: from 13-seat minibuses to 70-seat coaches, and many other coaches in-between.
Most of our depots have vehicles for hire in standard, executive, and VIP classes. With our coaches parked at multiple sites, we can dispatch a coach to wherever you are in Cardiff.
Safety and Comfort in Your Cardiff Coach For Hire
The Coach Company UK will assist you in hiring a coach in Cardiff, along with a great driver. Our Cardiff bus company's drivers all have a Certificate of Professional Competence (CPC) and take refresher driving lessons on a regular basis. They are likewise polite, friendly, and hospitable.
Our coaches for hire in Cardiff are regularly cleaned and sanitised. They pass standard requirements for safety, undergo regular safety inspections, and are maintained in accordance with the UK Ministry of Transport's (VOSA) highest standards.
They have seat belts in working order, and abide by the directive of the UK government as well as the World Health Organisation to use face masks to prevent the spread of the COVID-19 virus.
Available Coach Hire Cardiff
Our massive pool of coaches and other vehicles for hire from reliable Cardiff bus companies include these:
4 Seat Executive Saloon Car
8 Seat Standard MPV
9-16 Seat Standard Minibus
10-16 Seat Executive Minibus
9-16 Seat Luxury VIP Coach
17-25 Seat Midi Coach (Standard or Executive option)
17-36 Seat Luxury VIP Coach
26-37 Seat Midi Coach (Standard or Executive option)
38-49 Seat Coach (Standard or Executive option)
50-53 Seat Coach (Standard or Executive option)
54-61 Seat Coach (Standard or Executive option)
62-70 Seat Standard Coach
71 Plus Seat Standard Double Decker Coach
Our coaches for hire come in one of these grades: Standard, Luxury, or VIP.
Every single bus we have for hire comes with:
Comfortable, reclining seats
Full air-conditioning
PA/stereo sound system
Huge storage spaces for luggages
You can also request for a coach with these features:
Wi-Fi
WC
TVs
Seat-back tables
USB charging points
On-board kitchens
Our coaches also have CCTV cameras for added security, which exceeds the minimum legal requirements for coach travel in the United Kingdom. If you need another feature or service not listed above, let us know and we'll do our best to find one for you.
Popular Destinations in Cardiff
The capital and largest city of Wales, Cardiff is known for being the city with the most number of castles in the world. Here are Cardiff's most popular sites:
Cardiff Castle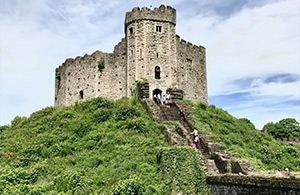 Cardiff Castle is one of the most popular tourist attractions throughout Wales. Constructed on top of an almost 2,000-year-old Roman fortification, it is considered one of the most romantic and best-preserved historic castles in the country.
In its State Apartments, every room is chock-full of astonishing displays and interesting information about the people who lived and worked in the castle, along with important events in its history. The castle also has a chapel, a clock tower, and a Banqueting Hall. Organised tours are available.
Cardiff Bay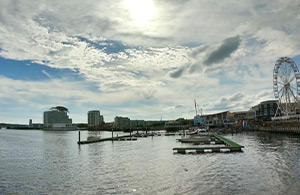 Covering roughly 2,700 acres of waterfront land, Cardiff Bay often requires an entire day to appreciate. Families would enjoy attractions like Techniquest, an interactive, child-friendly science centre. On top of fun and hands-on educational experiences, children can also enjoy educational displays in the excellent planetarium.
Meanwhile, the historic Norwegian Church beckons children who love books like Charlie and the Chocolate Factory and The Big Friendly Giant. It is where the author of those classic stories, Roald Dahl, once worshipped (there's actually a public square called Roald Dahl Plass that's made in honour of the said author). Another great attraction here is the Senedd, a building for government offices. There are also numerous parks and paths, some of which lead to a wetlands preserve that has rich wildlife. The area also has luxury hotels, homes, dining sites, theatres, art studios and galleries, shops, and the Wales Millennium Centre performance arts facility.
Victorian Arcades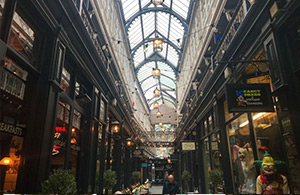 The city's incredibly-preserved and busy Victorian shopping arcades are found in the city's centre. These old covered pedestrian thoroughfares let people comfortably shop indoors without being bothered by harsh weather nor terrible roads.
The Victorian Arcades span over 2,600 feet, with the oldest — the Royal Arcade — constructed way back in 1858. Most of the original shopfronts remain unchanged, but the items for sale have definitely changed; these days, they mostly feature Welsh crafts and woollen products.
Other popular arcades are the High Street Arcade — which is popular for clothes — and the Castle Arcade, which is noted for its boutiques, art galleries, and eateries. If you still have time, visit The Cardiff Market shopping area, as well, which has been serving fresh local produce as early as the 1890s
Roath Park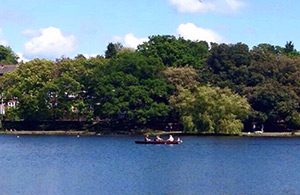 With its Victorian vibe and 130 acres of picturesque green sights, Roath Park is one of Cardiff's most popular parks. It features the Nant Fawr stream, which forms a breathtaking 30-acre lake that's surrounded by benches and picnic sites.
Its Botanic Garden features various trees, shrubs, and flowers. There is also a conservation area that's home to birds and waterfowl, and a lovely 'Wild Garden with paths for strolling.
Children will enjoy the adventure playground, while tourists of all ages can go fishing and rowing (rowboats are available for rent); play basketball, tennis, and lawn bowls; and pose with the park's iconic lighthouse in the backdrop.
Llandaff Cathedral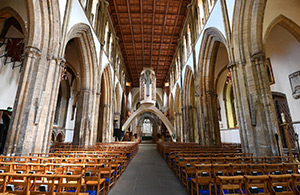 Llandaff Cathedral is one of the city's most beautiful churches. Constructed in the 1300s, it has a gorgeous 15th-century tower, and a magnificent, fully-restored 18th-century Italian Temple that has rare religious sculptures and artefacts.