Planning a Group Trip to Glasgow? Hire a Private Coach for a Smashing Time!
Use The Coach Company UK's website (TheCoachCompany.co.uk) to browse through some of the best coaches that you can hire in Glasgow! Our site has a whacking great list of buses that are available for hire in Glasgow (as well as all over the UK).
Why Hire a Glasgow Coach From Us
The Coach Company UK is a leading provider of private coaches with drivers for hire in 'The Dear Green Place'. We've been trusted by hundreds of group travellers, including multinational firms and global event organisers.
We offer world-class group transportation services at competitive fees. Using modern assistive technology, we offer a large listing of prime coaches from the top bus companies in Glasgow: from 13-seat minibuses, to 70-seat coaches, and many others in-between.
We serve travellers 24 hours a day, all throughout the year. You can choose from three classes in most of our depots: standard, executive, and VIP class. Since our coaches are available at multiple sites, we can send a private coach in Glasgow like nobody's business (i.e., in as quickly as 30 minutes)!
Safety and Comfort in Your Glasgow Coach For Hire
We can transport you safely and comfortably.
The Coach Company UK will help you find and hire a coach in Glasgow with a driver who's well trained in traversing the roads of this city. Our coach drivers have a Certificate of Professional Competence (CPC) and undergo refresher driving courses regularly. In addition, we take pride in them having marvellous customer service skills, so don't be surprised if your driver is warm, respectful, and hospitable.
All of our buses for hire in Glasgow are regularly and scrupulously cleaned and sanitised. They meet all of the standard safety requirements and pass all necessary safety inspections. They are also religiously maintained to adhere to the UK Ministry of Transport's (VOSA) highest standards.
Our buses for hire in Glasgow have seat belts in working order, and in our buses, we follow the UK government as well as the World Health Organisation in their mandate of using protective face masks to help contain the spread of the COVID-19 virus.
Available Coaches For Hire in Glasgow
Our thumping great assortment of coaches and other vehicles for hire from the leading bus companies in Glasgow include these:
4 Seat Executive Saloon Car
8 Seat Standard MPV
9-16 Seat Standard Minibus
10-16 Seat Executive Minibus
9-16 Seat Luxury VIP Coach
17-25 Seat Midi Coach (Standard or Executive option)
17-36 Seat Luxury VIP Coach
26-37 Seat Midi Coach (Standard or Executive option)
38-49 Seat Coach (Standard or Executive option)
50-53 Seat Coach (Standard or Executive option)
54-61 Seat Coach (Standard or Executive option)
62-70 Seat Standard Coach
71 Plus Seat Standard Double Decker Coach
They come in one of these grades: Standard, Luxury, or VIP.
As a standard, all our coaches have:
Comfortable, reclining seats
Full air-conditioning
PA/stereo sound system
Big storage spaces for luggages
You may also request for a coach with these extra features:
TVs
Wi-Fi
USB charging points
On-board kitchens
Seat-back tables
WC
Our coaches for hire likewise have CCTV cameras for your added security — which is beyond the minimum requirements for coach travel in the UK.
Lastly, you may even request for extra features or services that will help turn your Glasgow trip into an unforgettable journey.
Popular Destinations in Glasgow
Scotland's most populous city, Glasgow has transformed from an industrial city to Scotland's cultural centre, making it an interesting site for travellers. These are five of the most popular places in Glasgow where our coaches for hire have brought many pleased passengers.
Glasgow Cathedral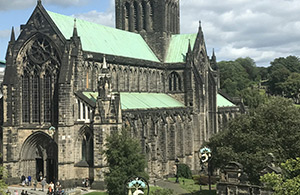 As the city's most important historic building, Glasgow Cathedral is a must-visit for tourists in Glasgow. Also called St. Mungo Cathedral or the High Kirk of Glasgow, it was constructed in the 12th century and looks like it came from a large mould. Visiting it, as well as joining any of the guided tours, is free. Right beside it is St. Mungo Museum of Religious Life and Art, which has exhibits of Egyptian mummies and Hindu statues, as well as a Zen Buddhist garden.
Kelvingrove Art Gallery and Museum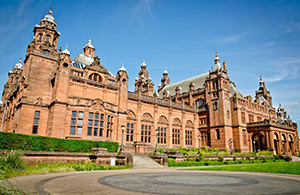 At the end of Sauchiehall Street ( famous for being the city's entertainment and shopping centre) is the majestic Kelvingrove Art Gallery and Museum. Located in the West End, it is surrounded by luxurious hotels, upscale restaurants and cafés, and high-end shops. Since it opened in 1901, this museum has been home to a number of British and continental paintings, such as Salvador Dali's Christ of Saint John of the Cross and Van Gogh's portrait of Alexander Reid. Its galleries have weapons and armour from the 15th and 16th centuries, and other relics from different periods.
Riverside Museum and Tall Ship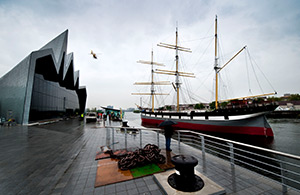 The city's exceptionally modern and award-winning Riverside Museum features many souvenirs from the former Glasgow Transport Museum, such as model ships, locomotives, trams, vintage cars, and horse-drawn carriages. They offer guided tours, with the guides occasionally wearing fancy costumes.
Glasgow Science Centre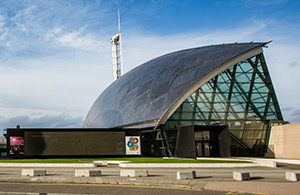 Wondering how to entertain children (or bairns, as Scottish call them) on your trip? Bring them to the Glasgow Science Centre, situated in the waterfront area near the Riverside Museum. This place is hard to miss due to its striking titanium-clad form similar to a ship's hull. Kiddos (and kids at heart) can enjoy a day of hands-on fun and exploration with its many science exhibits and laboratory-type stations where people can try some practical experiments. It also has an Imax cinema, a planetarium, and a science theatre. Bonus tip: Ask if you can go to the Glasgow Tower, which is supposedly the tallest freely-rotating tower in the world.
Kibble Palace and Glasgow Botanic Gardens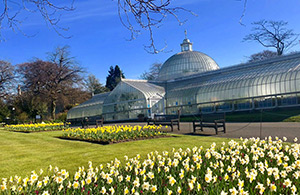 Kibble Palace is one of the biggest glasshouses in all of Britain. It features a collection of rare orchids; tree ferns from New Zealand and Australia; and plants from the Americas, Africa, and even the Far East. It's found at Glasgow's Botanic Gardens, where you can visit several greenhouses and appreciate Victorian sculptures. The gardens' tea room also has a charming patio. Bellahouston Park, known for its colourful flower beds, is another park to visit. Here, you'll find the House for an Art Lover, which hosts exhibits and other fun events.
Planning to visit any of these sites? Hire a coach to get you around!
Hire a Coach in Glasgow Today!
The Coach Company UK has an epic listing of coaches with drivers for hire in Glasgow.
Take a look at our coaches for hire in Glasgow now, or get in touch to discuss your itinerary with us!