Why Hire a Belfast Coach From Us
The Coach Company UK is one of Belfast' most trusted coach companies with drivers available for hire. We have been serving this industry for more many years, and have become a preferred group transportation provider for hundreds of travellers in Belfast.
As a Belfast bus company, we have a sizable supply of modern vehicles that are ready for hire: 13-seat minibuses, 70-seat coaches, and lots of other coaches in-between.
Our coaches for hire in Belfast are available in standard, executive, and VIP classes. They are parked in several depots, allowing us to dispatch coaches in a hurry for travellers who need them urgently no matter where they are in this city (or elsewhere in the UK).
No matter how large your group is, what time you need one, you can hire a coach in Belfast — hailed as the third most beautiful city in the UK — through The Coach Company UK.
Hire a Safe and Comfortable Belfast Coach
We are keen to help travellers experience the best time of their lives in Belfast while being transported safely and comfortably.
Our coaches for hire in Belfast City are scrupulously cleaned as well as sanitised. They also undergo thorough maintenance procedures to remain compliant with the UK Ministry of Transport's (VOSA) highest standards.
The drivers in our Belfast bus company are expert wayfinders in this gorgeous city. They all meet the obligatory Driver Certificate of Professional Competence (CPC) qualifications and have undergone extensive professional driving classes. In addition, they take refresher driving lessons regularly to guarantee their continuous professional development. They are also well trained in providing world-class customer service skills.
Our coaches for hire in Belfast have safety seatbelts and comply with the UK government's and the World Health Organisation's directive for all people to wear a mask.
Belfast Coaches For Hire (With Driver)
Our colossal fleet of coaches and other vehicles for hire from ace coach companies in Belfast include these:
4 Seat Executive Saloon Car
8 Seat Standard MPV
9-16 Seat Standard Minibus
10-16 Seat Executive Minibus
9-16 Seat Luxury VIP Coach
17-25 Seat Midi Coach (Standard or Executive option)
17-36 Seat Luxury VIP Coach
26-37 Seat Midi Coach (Standard or Executive option)
38-49 Seat Coach (Standard or Executive option)
50-53 Seat Coach (Standard or Executive option)
54-61 Seat Coach (Standard or Executive option)
62-70 Seat Standard Coach
71 Plus Seat Standard Double Decker Coach
Our coaches for hire come in one of these grades: Standard, Luxury, or VIP.
Every single bus we have for hire comes with:
Comfortable, reclining seats
Full air-conditioning
PA/stereo sound system
Huge storage spaces for luggages
You can also request for a coach with these features:
Wi-Fi
WC
TVs
Seat-back tables
USB charging points
On-board kitchens
Our coaches also have CCTV cameras for added security, which exceeds the minimum legal requirements for coach travel in the United Kingdom. If you need another feature or service not listed above, let us know and we'll do our best to find one for you.
Popular Destinations in Belfast
Located alongside the River Lagan on the northeast coast of the island of Ireland, Belfast is considered one of the UK's most beautiful cities. Here are five of the most popular places in this city:
Belfast City Hall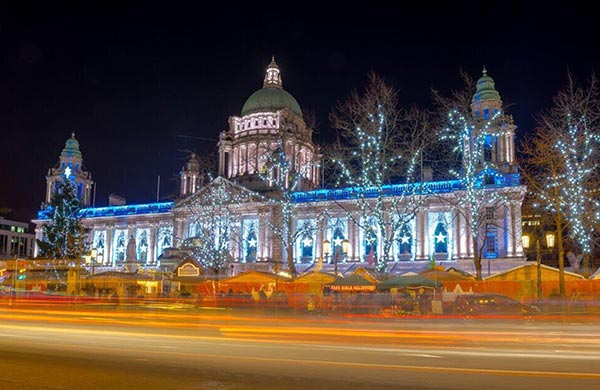 As the city's most magnificent structure, Belfast's City Hall is a perfect site to start your Belfast adventures. During warm months, you can see cafés and restaurants in Donegall Square up front of the civic building. Meanwhile, around Christmas season, the area is turned into a winter wonderland, complete with a Christmas market and festive decorations.
Besides appreciating the building's majestic exterior, you can also enter and visit the museum by joining one of the tours of the hallowed halls for free. The tour allows walk-in guests and lasts for around an hour.
Titanic Belfast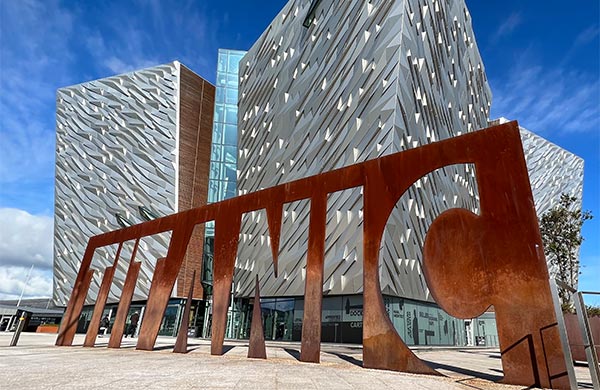 Located in the docklands of Belfast near the ship's original construction site, Titanic Belfast is a captivating museum devoted to the infamous Titanic, which was built in Belfast in the early 20th century and regarded as the biggest ocean liner during its time. Actual stories of people who were on board the ship's maiden journey are shared in dramatic detail at this museum.
CS Lewis Square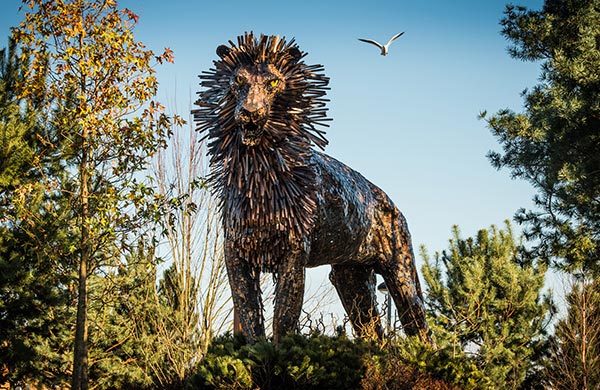 Going to Belfast with kiddos and fantasy-lovers? They'll enjoy a visit to CS Lewis Square, a public square in east Belfast that lets tourists take photos with different characters from the popular fantasy novel series, "The Chronicles of Narnia". The novel's author, Clive Staples Lewis, is a native of Belfast. Some of the characters you'll find in this square are Mr Tumnus, the White Witch, and Aslan the lion. As a bonus, the East Side Visitor Centre is just adjacent, which features interesting displays and information for tourists.
Belfast Botanic Gardens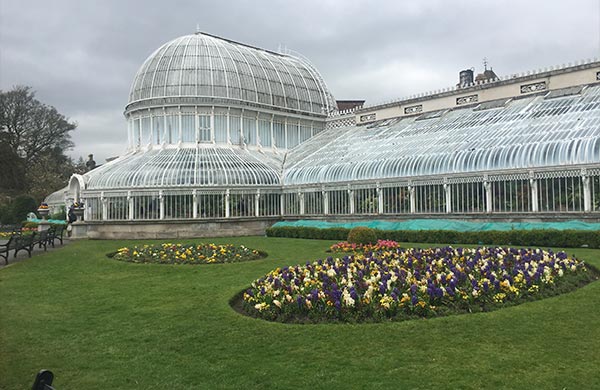 If you're visiting the city on a sunny day, the Belfast Botanic Gardens would be a lovely addition to your itinerary. Located beside Queen's University, this is a popular site for students as well as travellers who simply want to relax on the grass and appreciate the gardens' large collection of plants and flowers. Here you'll also find the Ulster Museum north of the garden, and the Palm House enclosure, which features exotic species from different countries around the globe.
Belfast Pubs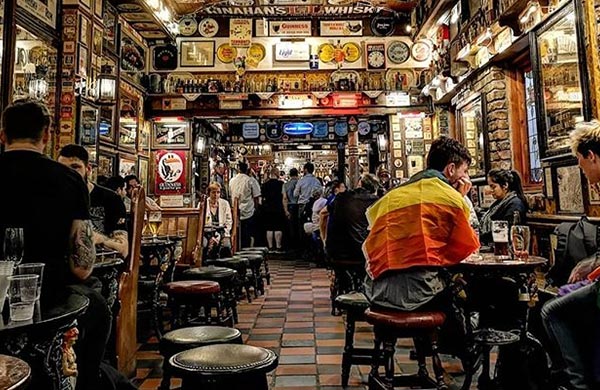 Exhausted from a day of hopping around Belfast? A visit to the pubs (for adults in your group) is a must. The city's most popular local pubs entertain tourists with wonderful food, live music, and — of course — a variety of Irish beers and whiskies. The Cathedral Quarter has a number of great pubs and bars to choose from, many of which have been offering 'a drop o' the black stuff' for centuries now. Some of the more popular pubs are Duke of York, The Dirty Onion, and The John Hewitt Bar.
Hire From Our Belfast Coach Company Today!
Check out our coaches for hire from Belfast coach companies, or contact us to discuss our coaches.